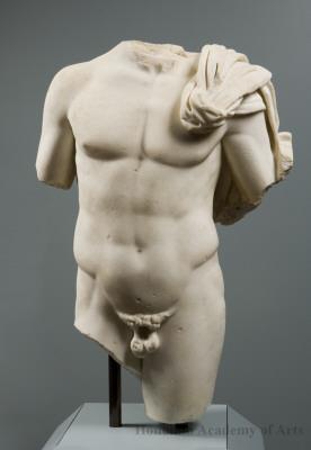 Object Title:
Male Torso
Date:
2nd Century A.D.
Artist:
Unknown
Medium:
Marble
Dimensions:
38 1/2 x 27 x 13 1/2 in. (97.8 x 68.6 x 34.3 cm)
Credit Line:
Gift of Anna Rice Cooke, 1932 (3603)
Geography:
Rome
Object Number:
3603
Description:
This fragmentary male figure is thought to belong to the so-called Hermes-Richelieu type because of its similarity to a statue of Hermes, the messenger of the gods, which bears the same name in the Louvre. This type, created around the mid-second century B.C. in Rome, ordinarily combines the idealized body of a Greek god or hero with the naturalistic portrait head of a distinguished Roman citizen. The head would have been secured to the torso by being set into a socket at the neck. Works such as this that are related to or are copies after Greek statuary reflect the Roman fascination with Greek art, kindled by the Roman conquest and plundering of Greece and Greek colonies during the second century B.C. The Academy torso retains a fragment of a cloak that rests on the left shoulder and trails down the left arm. The broken end of a sword rests against the folds of the fabric of the cloak. These two attributes along with the now-missing head suggest that this statue was used for a private portrait depicting a Roman in the guise of Mars, the god of war, or a military figure. The drill hole in the neck may indicate that over the years different heads were attached to the torso, a not uncommon practice at the time.
---