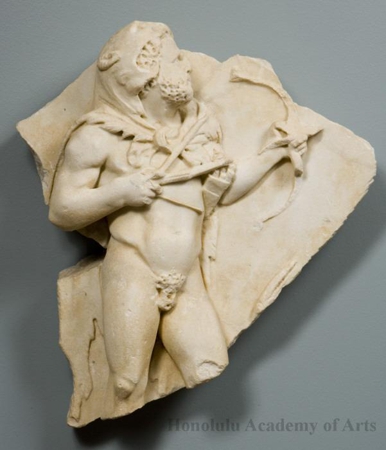 Object Title:
Sarcophagus Relief Depicting a Labor of Hercules
Date:
Mid 2nd century A.D.
Artist:
Unknown
Medium:
Marble
Dimensions:
23 x 21 1/2 x 6 in. (58.4 x 54.6 x 15.2 cm)
Credit Line:
Gift of Anna Rice Cooke, 1932 (3602)
Geography:
Rome
Object Number:
3602
Description:
A sarcophagus is a stone coffin often adorned on its exterior with inscriptions and relief sculpture. Intended for public display, sarcophagi advertised the wealth and social status of the deceased and his or her family by means of their size and the complexity and quality of their sculputures. Since Romans favored certain common themes for sarcophagi including the Labors of Hercules, they were often bought ready-made. Herakles, a Greek and Roman hero known as Hercules by the Romans, was celebrated for his twelve near-impossible labors or feats. This fragment depicts Hercules wearing the skin of the Nemean lion he killed knotted on his chest, the lion's head over his own as if it were a helmet. Hercules holds a bow and pulls back its string to shoot the Stymphalian birds. His quiver is visible below his left arm, and the wing of a fallen bird appears on the left edge. Purchased at the same time as the sarcophagus fragment with two additional images of Hercules on display at left and of the same thickness as the second fragment, it is thought that the two are part of the same sarcophagus. Microscopic analysis of the marble used in each piece supports this hypothesis.
---