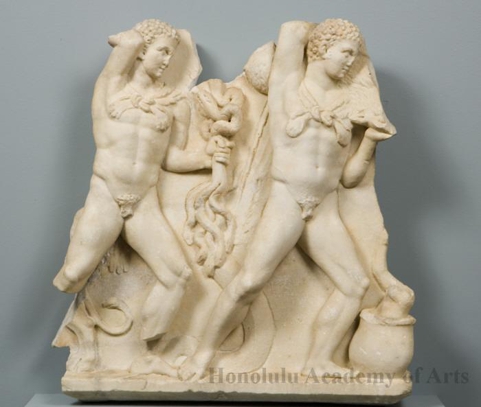 Object Title:
Sarcophagus Relief Depicting Labors of Hercules
Date:
4th-3rd Century B.C.
Artist:
Unknown
Medium:
Marble
Dimensions:
28 1/2 x 29 x 6 1/4 in. (72.4 x 73.7 x 15.9 cm)
Credit Line:
Gift of Anna Rice Cooke, 1932 (3601) Conservation treatment funded by ArtafterDark
Geography:
Rome
Object Number:
3601
Description:
Imagery drawn from the Labors of Hercules was popular on Roman sarcophagi, as the deceased cast themselves in the role of this great hero who was celebrated for his enormous strength. Representations of Hercules could appear on all four sides of a sarcophagus, as six or even all twelve labors were considered. This fragment depicts two of Hercules' feats as he battles the multi-headed hydra of Lerna at left and, having killed it, holds the boar of Erymanthea across his shoulders at right. Additional labors are referenced in this running narrative, as in both representations Hercules wears knotted around his neck the skin of the Nemean lion he killed, and the rear hoof and tail of the Cretan bull appears at the extreme lower left of the fragment. This fragment includes the carved corner of the sarcophagus at lower right, and a close examination of the marble will reveal marks left behind by the sculptor's various tools, such as on the body of the hydra.
---