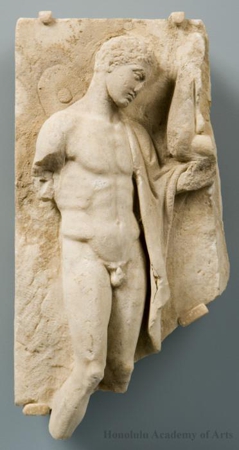 Object Title:
Male Figure
Date:
early 4th Century B.C.
Artist:
Unknown
Medium:
Marble
Dimensions:
16 9/16 x 9 7/16 in. (42 x 24 cm)
Credit Line:
Gift of Anna Rice Cooke, 1932 (3610)
Geography:
Greece
Object Number:
3610
Description:
This male figure, whose torso is well articulated and expresses a sense of sensuousness and relaxed languor, is thought to represent Hermes in his guise as the Guide of Souls, Psychopompus. The petasos, the broad-brimmed messenger's hat resting against the back of this figure, is one of Hermes' identifying attributes. The fragmentary figure which is depicted with Hermes has been identified as Eurydice, who is being drawn away from her husband, Orpheus, to be led back to Hades where she is destined to remain after her death caused by a snake bite. The reverse side of this fragment (not on view) depicts the right edge of a draped kline (couch) with two cushions, and the left shoulder of a reclining figure, presumably male and probably a reference to a Totenmahl scene, or that of a heroic funerary feast. The double-sided nature of this fragment suggests that a new image was carved on the reverse side of the stone after its initial funerary service and was reused.
---