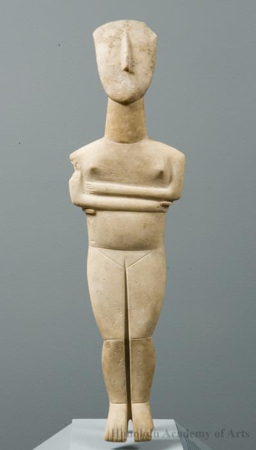 Object Title:
Female Figure
Date:
2500 - 2400 B.C.
Artist:
Unknown
Medium:
Marble with traces of polychrome
Dimensions:
25 1/2 x 6 3/4 in. (64.8 x 17.1 cm)
Credit Line:
Purchase, Frank C. Atherton Memorial Fund, 1976 (4386.1)
Geography:
Cyclades: Greek Island Group in the Aegean Sea
Object Number:
4386.1
Description:
This female figurine is from a Bronze Age (ca. 2900-2200 B.C.) cemetery in the Cyclades, a group of islands in the Aegean Sea located between the mainland of Greece and Turkey. It is a late example belonging to a class of female, folded-arm figures called the Spedos Variety, named after an important cemetery site on the Cycladic island of Naxos. Though unusual in its largeness, this work shows handling characteristic of the figures in this category. Its lyre-shaped head and torso are flat with the exception of the nose and subtle modeling and incised lines delineating the various limbs and sections of the body. The face retains hints of pigment. Notice the double rows of red dots across both cheeks, the nose, and forehead. Faint traces of what may have been blue paint appear in the region of the eyes. Also interesting is the single curled lock of hair which was painted on the right side of the head. It seems that the sidelock only appears on the Spedos Variety of female folded-arm figures.
---