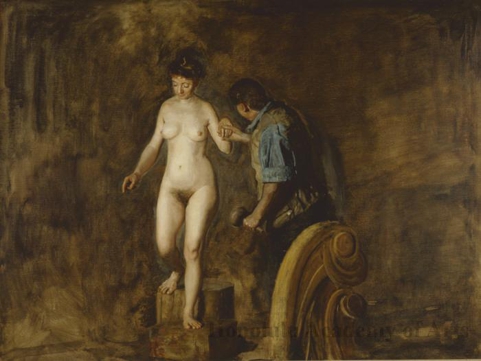 Object Title:
William Rush and his Model
Date:
1907-1908
Artist:
Thomas Eakins
Active:
American, 1844 - 1916
Medium:
Oil on canvas
Dimensions:
35 1/4 x 47 1/4 in. (89.5 x 120 cm)
Credit Line:
Gift of the Friends of the Academy, 1947 (548.1)
Object Number:
548.1
Description:
Utilizing only a minimal number of elements-the artist, nude subject and a ship's scroll-Thomas Eakins depicted the story of William Rush and his model. Rush, a celebrated sculptor and shipcarver, received a commission in 1809 from the city of Philadelphia to create a statue commemorating the new Schuylkill River waterworks. In an allegorical reference to the Schuylkill, Rush carved a nude woman holding aloft a river bird. Allowing Eakins to demonstrate his thorough knowledge of human anatomy, this subject was portrayed four times by the artist. This work, most likely Eakins's final version of the story, depicts the sculptor assisting his model as she steps down from her platform. Perhaps the finest figure painter in the United States during the nineteenth century, Eakins viewed the human form as a source of beauty and artistic creativity. It is generally believed that Eakins, himself a sculptor, used his own features and proportions for the figure of Rush.
---