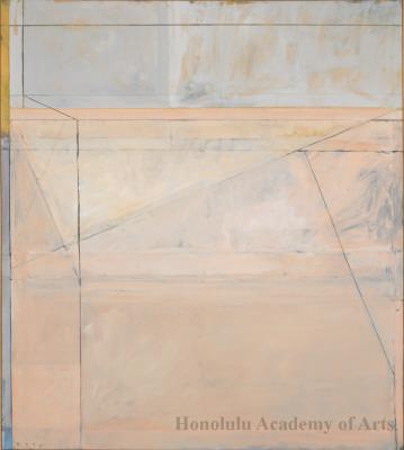 Object Title:
Ocean Park No. 78
Date:
1975
Artist:
Richard Diebenkorn
Active:
American, 1922 - 1993
Medium:
Oil and charcoal on canvas
Dimensions:
83 1/2 x 75 in. (212.1 x 190.5 cm)
Credit Line:
Purchase, National Endowment for the Arts grant and matching funds, 1975 (4346.1)
Object Number:
4346.1
Description:
Recognized first for his abstract-expressionist works and then figurative subjects, California-based Richard Diebenkorn returned to abstraction in 1967, beginning a series of large canvases titled Ocean Park (a section of Santa Monica, California) of which this painting is part. In Ocean Park No. 78 Diebenkorn celebrated the process of creation by showing the many alterations that took place as he brought the work to completion. Layers of thinly washed paint, applied by brushing, staining, scrubbing, and dripping, expose the history of the work. Diebenkorn also suggested in the abstract format of the painting a vast space animated by subtle shifts of light and a sense of depth that belies the flat planes. Diagonal lines cut across the surface, accenting the dominant verticals and horizontals. These features, as well as the high horizon line and the pale blue register above it, suggest a landscape, perhaps the brilliantly sunlit and arid subdivided land tracts of southern California.
---