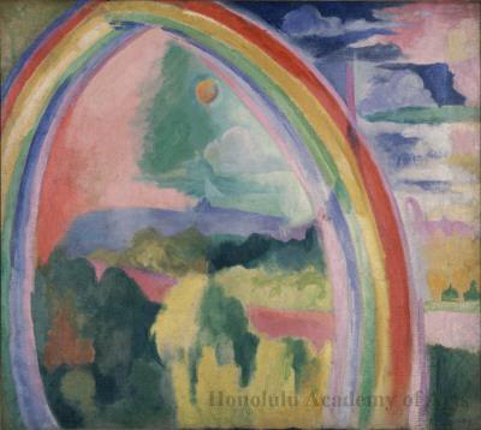 Object Title:
The Rainbow
Date:
1913
Artist:
Robert Delaunay
Active:
French, 1885 - 1941
Medium:
Oil on canvas
Dimensions:
34 9/16 x 39 5/16 in. (87.8 x 99.9 cm)
Credit Line:
Purchase, 1966 (3417.1)
Object Number:
3417.1
Description:
Inspired by Eugène Chevreul's highly influential 1855 treatise on the law of simultaneous contrasts, Robert Delaunay reinterpreted Cubism in terms of color. Delaunay drew impetus from Chevreul's theory that colors in the spectrum resonate according to their juxtaposition to liberate color and empower it with the articulation of depth, sensation, and movement in a painting. "These colored planes are the structure of the picture, and nature is no longer a subject for description but a pretext," he wrote, seeking to abandon altogether the "images or reality that come to corrupt the order of color." One of several Paris scenes Delaunay did between 1910 and 1913, Arc-en-Ciel represents a step along the way to this pure abstraction. The Eiffel Tower's distinctive shape emerges ghost-like through the arc of the rainbow at right, while the dome of the Sacré Coeur is just visible on the horizon. But the painting's real subject is its vivid, riotous color, which transcends its descriptive role to operate as an energizing and even spiritualizing force. Christened "Orphism" by the poet Guillaume Apollinaire, Delaunay's style is one of several adaptations of Cubism developed in France in the second decade of the 20th century.
---