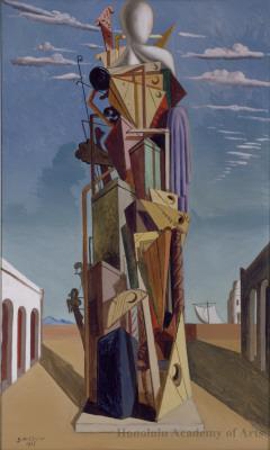 Object Title:
The Great Machine
Date:
1925
Artist:
Giorgio de Chirico
Active:
Italian, 1888 - 1978
Medium:
Oil on canvas
Dimensions:
61 1/2 x 36 3/4 in. (156.2 x 93.3 cm)
Credit Line:
Gift of the Friends of the Academy, 1945 (309.1)
Object Number:
309.1
Description:
Born in Greece, Giorgio de Chirico moved to Italy in 1909 and to Paris two years later. After serving in the Italian military, he co-founded the Scuola Metafisica, an informal school of painting that advanced a "metaphysical" agenda by subjecting Renaissance esthetic strategies to 20th-century irrationalism. De Chirico's desolate architectural spaces are typically illogical, largely unpopulated, and disturbingly rich in enigmatic juxtapositions. Indeed, perspective is used emotionally rather than structurally, and dramatic light and shadow conspire to convey a sense of mystery. The Great Machine rises like a tower from the center of an Italianate square. The monumental construction is composed of irregular two- and three-dimensional forms, stacked precariously and topped by a white bust with a featureless, egg-shaped head. De Chirico often used mannequins and tailor's dummies in place of the human model, liquidating his paintings of warmth and emotion. Influencing the work of the later Surrealists, de Chirico was, by extension, an important precursor to Abstract Expressionism.
---