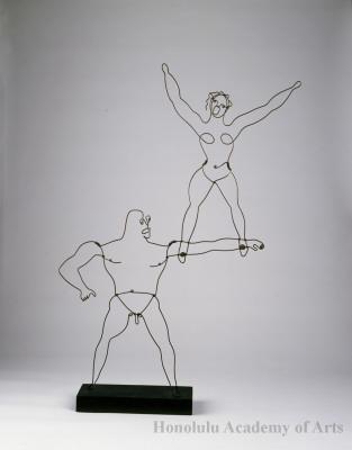 Object Title:
Hi!
Date:
c. 1928
Artist:
Alexander Calder
Active:
American, 1898 - 1976
Medium:
Wire
Dimensions:
Figures: 36 1/4 x 25 1/2 x 7 1/2 in. (92.1 x 64.8 x 19.1 cm) Other (Base): 1 5/8 x 12 3/8 x 5 1/8 in. (4.1 x 31.4 x 13 cm)
Credit Line:
Gift of Mrs.Theodore A. Cooke, Mrs. P.E. Spalding, and Mrs. Walter F. Dillingham, 1937 (4595)
Object Number:
4595
Description:
Alexander Calder revolutionized sculpture in the 20th century with the introduction of the mobile, a term coined by his friend Marcel Duchamp. However, moving sculpture was only one of his achievements. As seen in this sculpture, his early work with wire demonstrated the aesthetic potential of untraditional mediums; challenging preconceived notions of sculpture by introducing the ideas of open space and transparency to the art form. Calder was educated as a mechanical engineer before enrolling in the Art Student League in New York in 1923 to study painting. Attracted by Paris' reputation as an artistic center, Calder moved there in 1926 and, drawing from his engineering roots, began developing a miniature circus of articulated performers in wire and found objects. Beginning in 1927, he performed the Circus in Paris, New York, and elsewhere, holding elaborate performances and mimicking real circus acts. Although Calder's work would become more abstract in later years, The Circus, with its emphasis on the movement of form and line in space, is an important part of the evolution of his work--demonstrating a dedication to kinetics as art from the outset of his career.
---