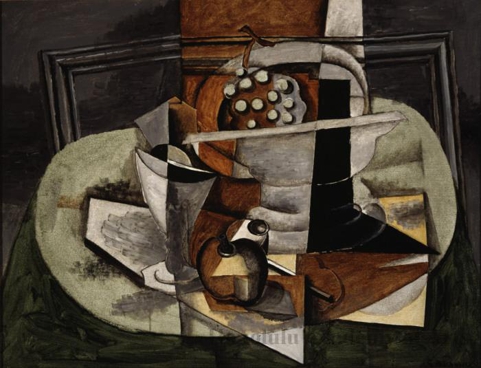 Object Title:
Le Tapis Vert
Date:
1929
Artist:
Georges Braque
Active:
French, 1882 - 1963
Medium:
Oil on canvas
Dimensions:
19 1/4 x 25 1/4 in. (48.9 x 64.1 cm)
Credit Line:
Gift of the Friends of the Academy, 1941 (4952)
Object Number:
4952
Description:
In 1907, after seven years of study at the Ecole des Beaux-Arts in Paris, Georges Braque met Pablo Picasso and together they revolutionized painting. Working alongside each other, Braque and Picasso developed analytical Cubism (exemplified in Picasso's Fan, Pipe, and Glass). After service in World War I, however, Braque turned to Cubism's later "synthetic" phase, refining the monochromatic palette and structural complexity associated with analytical Cubism through the reintroduction of color, the simplification of form, and the use of collage, whether actual or, as in this case, suggested in painterly texture. In this still life, flat planes of neutral color advance and recede against the picture plane, emphasizing its two-dimensionality even as they overlap, merge, and collide to suggest three-dimensional objects arranged on a precariously tipped table. Analytical Cubism's dissolution of form has been replaced by the build-up of shapes into an easily readable composition that represents rather than replicates nature, as indicated in the trompe l'oeil frame that just barely contains the grapes, glass, apple, pipe, and bowl within its borders.
---