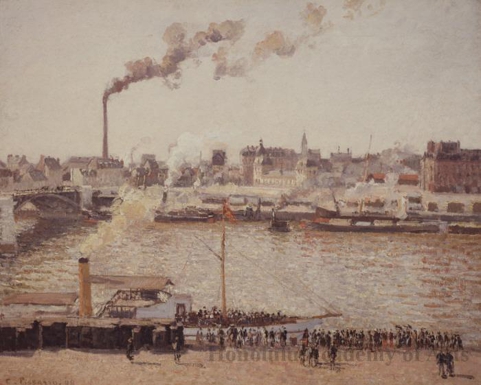 Object Title:
Rouen, Saint-Sever, Morning
Date:
1898
Artist:
Camille Pissarro
Active:
French, 1830 - 1903
Medium:
Oil on canvas
Dimensions:
25 x 31 1/4 in. (63.5 x 79.4 cm)
Credit Line:
Gift of Anna Rice Cooke, 1934 (4110)
Object Number:
4110
Description:
Camille Pissarro was the only artist to show his paintings in all eight Impressionist exhibitions, held in Paris from 1874 to 1886. For most of his career, he depicted peaceful rural scenes. In the last decade of his life, however, his focus turned to the rapidly expanding urban centers of France. Rouen, Saint-Sever, Morning captures a moment in that city's life along the Seine River. The entire work is created with thickly applied strokes of paint that capture the play of light and shadow and cause surfaces to shimmer with the luster of a hazy summer morning.
---