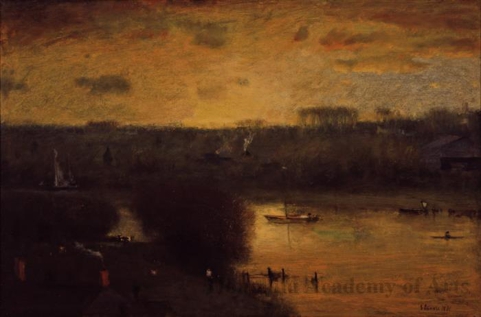 Object Title:
Sunset on the Passaic
Date:
1891
Artist:
George Inness
Active:
American, 1825 - 1894
Medium:
Oil on canvas
Dimensions:
30 x 45 1/4 in. (76.2 x 114.9 cm)
Credit Line:
Purchase, 1970 (3698.1)
Object Number:
3698.1
Description:
The rich, glowing tones of sunset pervade every aspect of George Inness's depiction of the Passaic River. The rich colors and poetic atmosphere of this painting exemplifies the evocative and highly personal style which Inness, a landscape artist who trained in the United States, developed through his experience of European art. Although his early paintings demonstrate the influence of the American artists Thomas Cole and Asher B. Durand, Inness eventually exchanged the tight brushwork and descriptive nature of the Hudson River School style for the more loosely painted and subjective images of the French Barbizon School. Asserting that landscapes are capable of communicating human sentiment, Inness's works express his belief that "everything in nature has something to say to us."
---