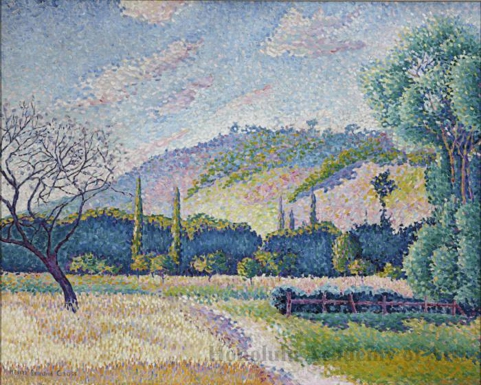 Object Title:
Landscape
Date:
c. 1896-99
Artist:
Henri-Edmond Cross
Active:
French, 1856 - 1910
Medium:
Oil on canvas
Dimensions:
25 3/4 x 32 in. (65.4 x 81.3 cm)
Credit Line:
Purchase, 1974 (4225.1)
Object Number:
4225.1
Description:
With Georges Seurat, Paul Signac, and Maximilien Luce, Henri-Edmond Cross was a principle exponent of Neo-Impressionism, a scientific response to Impressionism's fugitive nature that theorized the division of surfaces into their basic chromatic components, described in stippled paint strokes of uniform size and shape. Cross is known for his use of high-value colors and rectangular brushwork, both of which he employs in this landscape to capture the vivid light and intense color of the South of France. The pattern created by the field, dark forest, sloping mountain, and sky combines with the bright colors to create a strong decorative effect.
---