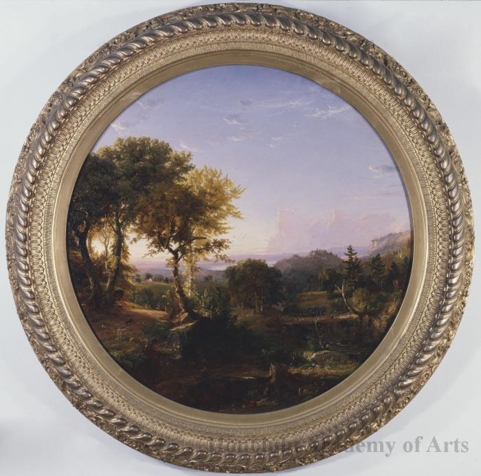 Object Title:
Green Mountain Scenery
Date:
1852
Artist:
Jasper Francis Cropsey
Active:
American, 1823 - 1900
Medium:
Oil on canvas
Dimensions:
24 3/8 in. (61.9 cm)
Credit Line:
Purchase, 1973 (4187.1)
Object Number:
4187.1
Description:
The path traveled by a wagon and dog leads the viewer's eye into the depths of Jasper F. Cropsey's expansive landscape. From the stream and rocks in the foreground to the lake and mountain peak in the background, the artist included a variety of nature's elements in his ordered view of rural life. The canvas's circular shape as well as its compositional motifs relate the work to a pair of paintings Cropsey completed in 1855 contrasting winter and summer scenery. Similar cycles of seasons may have helped Cropsey develop his later recognized specialty, American autumnal landscapes. Here, Cropsey nestled a homestead within a bucolic sunset scene. However, tree stumps representing man's damaging impact on his natural environment introduce a disturbing factor into the otherwise tranquil vista.
---