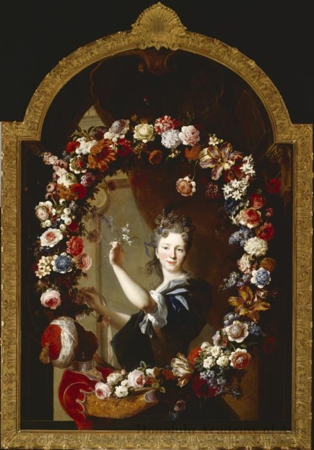 Object Title:
Helene Lambert de Thorigny
Date:
c. 1696-1700
Artist:
Jean Baptiste Belin de Fontenay
Active:
French, 1654 - 1715
Medium:
Oil on canvas
Dimensions:
63 x 45 in. (160 x 114.3 cm)
Credit Line:
Purchase, 1969 (3577.1)
Object Number:
3577.1
Description:
Largillière made his reputation as a painter of grandiose, formal portraits of the French nobility and members of the haute bourgeoisie, such as this sitter, wife of a wealthy Normandy financier. A masterful technician and brilliant colorist, Largillière portrayed Madame de Thorigny finely attired and framed by a garland of flowers into which she prepares to insert a final sprig of blossoms. By emphasizing the classically grand setting, Largillière also suggested the importance of the woman's social position. Although such elaboration of the sitter's wealth and station was central to 17th-century taste, the portrait also reveals a lighthearted charm that aligns the artist with the spirit of the rococo. The repetition of curving forms energizes the likeness, as does the momentum established by Madame de Thorigny's uplifted arms and eyes, her appealingly tilted visage, and even the circling effect of the flowers. Only her gaze remains at rest, and as it directly engages the attention of the viewer, we are invited into the scene to enjoy the moment's enchantment.
---